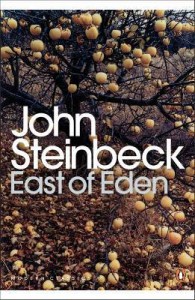 This might be an 800 pages novel disguised in an edition with 600 pages. The fond is tiny in this Penguin Modern Classics edition. I´m a little bit intimidated by that.
I´m not very far into the story, but there is certainly something special to Steinbeck´s writing:
When a child first catches adults out - when it first walks into his grave little head that adults do not have devine intelligence, that their judgements are not always wise, their thinking true, their sentences just - his world falls into panic desolation. The gods are fallen and all safety gone. And there is nothing sure about the fall of gods: they do not fall a little; they crash and shatter and sink deeply into green muck. It´s a tedious job to build them up again; they never quite shine. And the child´s world is never quite whole again. It´s an aching kind of growing.